Simlipal Tiger Reserve which spreads over 2750 Sq.Kms is a part of Eastern Ghats and Central Indian Landscape. Not only a Tiger Reserve, Similipal is also a National Park, Wildlife Sanctuary, Biosphere Reserve and also a part of Mayurbhanj Elephant Reserve.
Simlipal derives its name from the abundance of Semul or Red Silk Cotton trees that bloom vividly in its forest. The vast stretches of forest of Simlipal is a unique composition of deciduous, semi-evergreen, high level Sal, grass land & savannahs.
Flora & Fauna in Simlipal National Park
It is the abode of more than 1253 species of flowering plants, 99 species of non-flowering plants, 21 species of amphibians, 62 species of reptiles, 361 species of birds, 55 species of mammals and many species of flora and fauna. Similipal Tiger Reserve located in the northern side of the state is also blessed with majestic waterfalls like Barehipani, Joranda & Uski, Sitakund-Deokund-Bhimkund waterfalls in its periphery, rocky cliffs and green valleys dotted in sylvan Sal forests. It bears 94 species of orchids, many of them are endemic and endangered and 72 are Himalayan species.
There are many species of rare, endangered, threatened and vulnerable plants and animals. Spotted Deer,Sambar,Elephants, Hornbill, Chousingha,Bison,Porcupine,Pangolin,Wild Boar,Barking Deer,Jungle Cat, Mouse deer, Giant Squirrel, Flying squirrel, Ruddy mongoose, mugger crocodile and Rufous tailed Hare are examples of this unique biodiversity.Similipal is famous for Tigers and Elephants. It is the only Tiger Reserve in the country to boast of Melanistic Tigers. It alone is the home of 75% Tiger and 25% Elephants of Odisha.
Tourists can make night halt in 5 Nature Camps of Similipal located within close proximity of 20 to 30 Kms from each other- Barehipani,Jamuani,Kumari,Gurguria & Ramtirtha Nature Camp.
How to Reach Simlipal National Park
By Air-nearest airport is Jamshedpur,it is just 3hrs drive here,Bhubaneswar (Biju Patnaik International Airport) is about 200km & 4 hrs drive & from Kolkata Airport (Netaji Subhas Chandra Bose International Airport) is about 8hrs drive
By Road-From Bhubaneswar  Joshipur Via Cuttack-Jajpur Road-Anandapur-Karanjia is 252km, from Kolkata Joshipur Via Howrah-Kharagpur-Bangriposi is just 290km, from Baripada Joshipur Via Bangriposi is just 117km
By Rail-nearest Railway station is Baripada, its just 76km from Simlipal, which is well connected with Howrah,Kolkata & Bhubaneswar.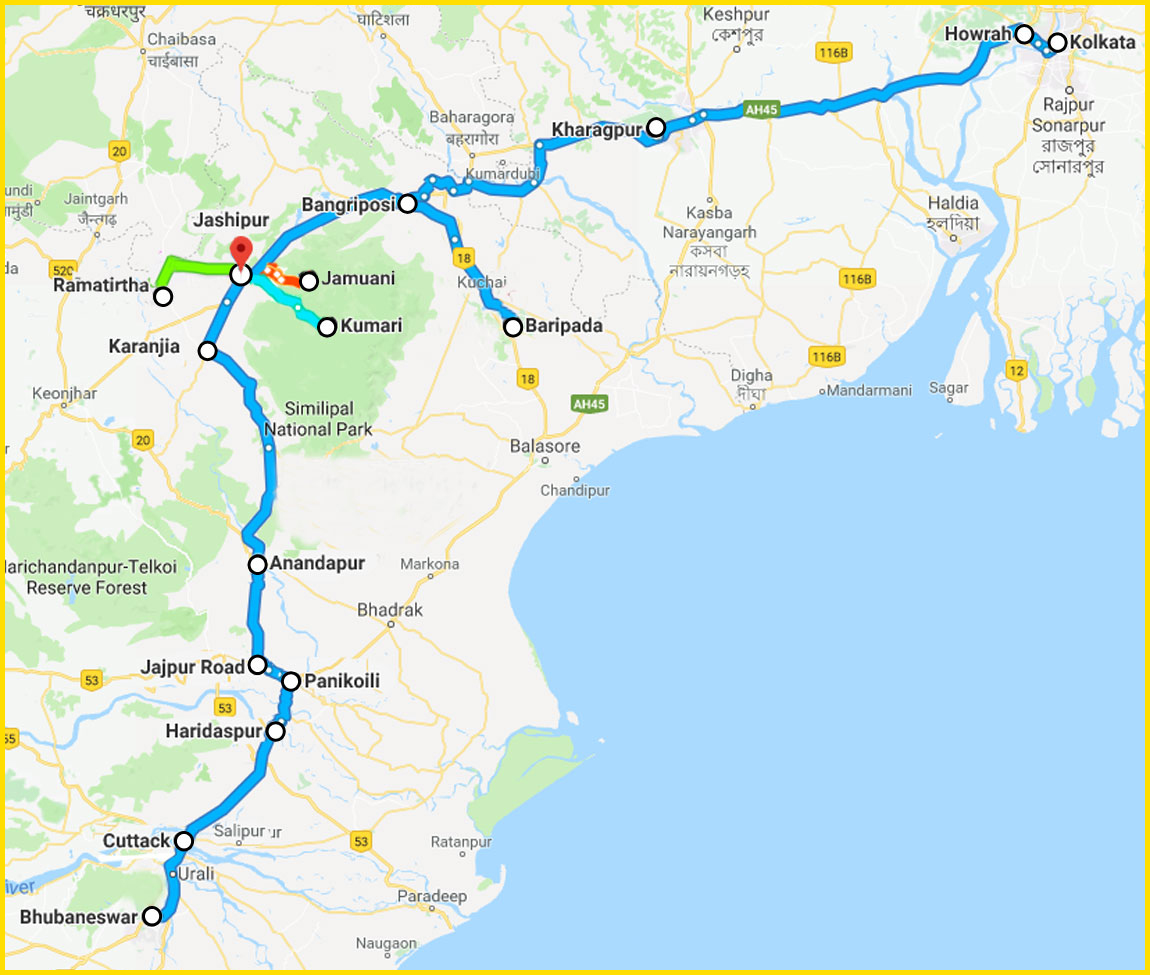 Nearby Places in Simlipal forest
Devkund
Devkund is located on the bank of River East Deo, while meandering on the hills, place of worship by the Hindus. The temple of Goddess Ambika was built up by the Royal Dynasty of Mayurbhanj in ancient period. The cascade touching the base of the temple falls on a gorge where the River rests awhile and further follows its course. It is the most lovable picnic spot.
Gurguria
On the bank of River Khairi with planned landscaping and surrounded by wooded hillocks, Gurguria gives the feeling of a hill station. The orchidarium with indigenous orchids in pots is very attractive during summer when it flowers. The main attraction is elephant ride and hill trekking. Accommodation with catering facility and conference hall are available.
Barehipani
Barehipani waterfall resembles the shape of a rope locally known as Barehi. The rolling waterfall with a height of 217 mtrs presents a majestic view with reverberating sound in the gorge from where the River Budhabalanga runs to the plain land.
Joranda
The waterfall from a height of 181 mtrs touches the ground on the gorge perpendicularly and nature unfolds its beauty through vast stage of green lush vegetation.
Kumari
Kumari is a village inside Similipal situated at 2 Kms distance from  Gurguria within a back drop of hill ranges of Similipal with green paddy fields . Night stay cottage accommodations made of bamboo are available.
Ramatirtha
Situated on the confluence of Khairi and Bhandan Rivers emerging from Similipal. It is a place of picnic with an Astral garden and Gharial Research Centre. Accommodations for the tourists in cottages with catering facilities are available throughout the year.The tariff includes night stay , activities except fooding. Fooding is available at nature camp on spot payment
Sitakund
A place of religious importance of Hindus, is a site of attraction for picnickers due to the picturesque beauty of a small waterfall and a gorge filled with water.
Lulung
Lulung is situated at the entrance of the park on the bank of a tributary to River Palpala with perennial water flow. The crystal clear water with pebbles of different sizes on the River bed and dense forest on both sides of the River wins the heart of the people to assemble for picnic.
Khiching
A place of pilgrimage for the Hindus, famous for granite carving temple of Goddess Kichakeswari built by the Maharaja of Mayurbhanj. Granite carvings are available in temple premises for sale.
Bhimkund
River Baitarani pierces through a hill rock. A picnic spot and place of congregation during Makar Sankranti. Famous for scenic beauty.
WATCH TOWERS
Tourists are discouraged to walk inside the forest in view of danger to life from wild animals. For their convenience, watch towers have been constructed at safer places to enable viewers to have a closer look at animals in salt lick without disturbing them. Presently, three watch towers at Chahala, Barehipani and Joranda have been erected for tourist
Best time to Visit Simlipal Tiger Reserve
The sanctuary remains open to visitors tentatively from 1st November to 15th June. Ideal season of visit is from November to March.
Simlipal Activities:
Trekking: Travelling to the Simlipal Forest and not trekking through the mountain trails, is a hit and a miss.
Cycling: Cycle through the mountain trails and explore the virgin wilderness of the forest.
Picnicking: Spend a day with your loved ones amidst nature and soothe your mind having a picnic by the babbling Palpala River.
Bird Watching: If birds interest you, then bird-watching activity is a must for you in the neighboring forest area.
Studying Orchids: The orchid flowers are a major attraction of this area. If you are looking to appreciate some wild orchids, the neighboring forests are the right place to be.
Simlipal Tour Plan from Kolkata/ Simlipal Tour Package from Kolkata
Day 01: On arrival at Baripada Railway station, you'll be picked up by our delegate and droop at your reserved Resort by 1PM. Check-in and savor your refreshment as well as Lunch. Enjoy the view of the campus. Trip to explore Astral Garden, Nursery and medicinal plants which are useful for various organs of the body. Enjoy the view of River Khairi Bandhan from the backside of your resort. Overnight stay and dinner at your hotel.
Day 02: In the very next morning after breakfast, move ahead for the Jungle safari latest by 10:00 AM. You'll get your lunch packed form the hotel and enjoy it at Barehipani. Explore waterfall JORANDA i.e. 498 feet. Visit to CHAHALA for the animals sightseeing. Drive back to the resort for overnight stay followed by Dinner.
Day 03: After having your breakfast, check out from the resort and droop at Baripada Railway station.
Accommodation/ Where to Stay in Simlipal Forest
Tourists can make night halt in 5 Nature Camps inside Simlipal i.e.
Barehipani-Barehipani Nature Camp is located near Barehipani Waterfall and is around 28 Km from the magnificent Joranda Waterfall. Pocket Pinch-Rs.5650 for two adults with all meals (8 NAC Cottages)
Jamuani-is deep inside the forest of Similipal adjoining the Core forest.Pocket Pinch-Rs.4500 for two adults with all meals(4 NAC Tents)
Kumari-Kumari Nature camp is amid the beauty of wilderness.Pocket Pinch-Rs.5000 for two adults with all meals (10 NAC Santhal Cottages)
Gurguria-Gurguria Nature Camp is close to Pine Forest and one of the most beautiful Orchidarium of our country is here. Pocket Pinch-Rs.4500 for two adults with all meals (6 NAC rooms)
Ramtirtha-Ramatirtha Nature Camp is located close to Similipal Tiger Reserve at Jashipur.Pocket Pinch-Rs.4000 for two adults with all meals (3 AC Tribal Hut)
Enquery
Related Packages
Gallery
There is no Gallery Images.